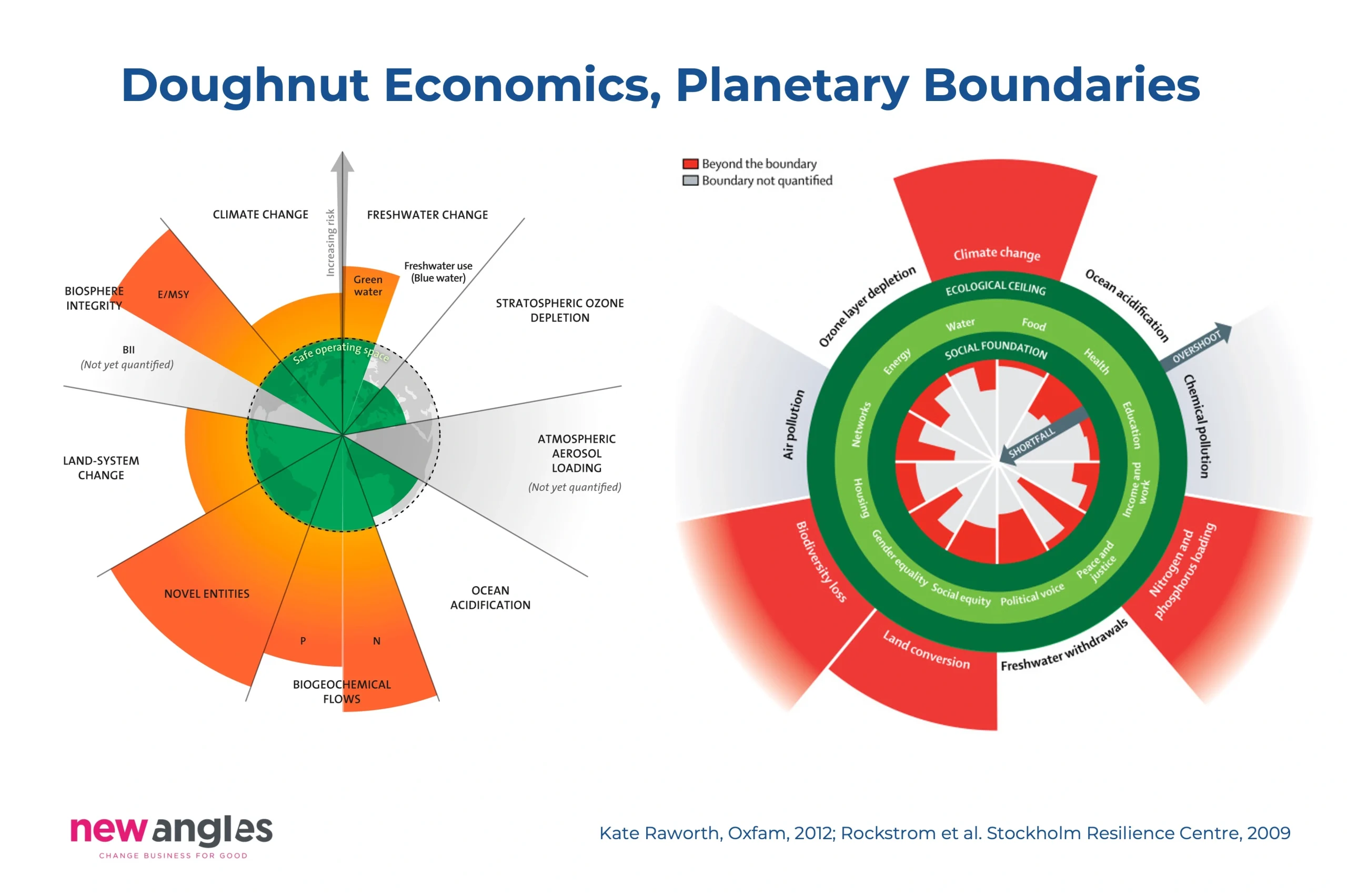 Doughnut Economics & Planetary Boundaries
The Doughnut Economics and Planetary Boundaries frameworks define sustainability issues in concrete terms for business managers. They bring the concept into focus and make it actionable.
We recommend the science-based frameworks of the Stockholm Resilience Institute's Planetary Boundaries and the Capitals Coalition's Natural Capital protocol for environmental impacts. 
The planetary boundaries concept presents a set of nine planetary boundaries.  Within these boundaries, humanity can continue to develop and thrive for generations to come. Crossing these boundaries increases the risk of generating large-scale abrupt or irreversible environmental changes. Since then the planetary boundaries framework has generated enormous interest within science, policy, and practice.
For social impact thresholds we work with four frameworks: the UN Guidelines on Business and Human Rights, the Sustainable Development Goals, the Capitals Coalition's Social Capital Protocol, and Kate Raworth's Doughnut Economics. 
The twelve dimensions comprising the social foundation of Doughnut economics are drawn from the minimum social standards established by governments worldwide in the 2015 Sustainable Development Goals. These dimensions provide a comprehensive framework for assessing societal well-being and progress. Between social and planetary boundaries lies an environmentally safe and socially just space in which humanity can thrive.
These frameworks demonstrate to company managers how our current system of unconstrained production and consumption is the root cause of unsustainability. It also gives them tools to develop new models, impact-based targets and better-informed decision making.
For real and lasting systemic change, discover our services.
Choose your starting point…
Building your roadmap to Regenerative Impact
This programme helps you create a collective dynamic, accelerating your transition to a desirable future for your company and your employees.
Equipping your leaders to integrate Regenerative Impact
This training course provides the necessary tools for managers and Executive Committees who want to transform their day-to-day business and move their company towards regenerative impact models.
Supporting your Regenerative Impact innovations
This programme is a prototyping opportunity, tailor-made with your innovation teams engaged in developing new business models, partnerships and solutions.
Can we help you take your next step on your Sustainability Journey ?