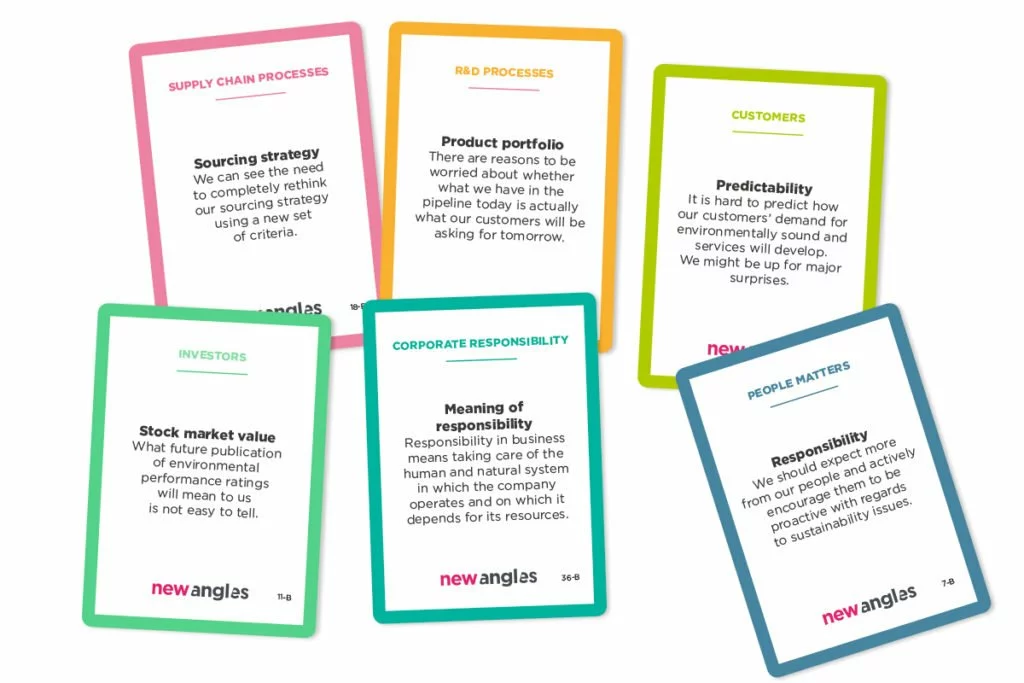 Leadership Team alignment on sustainability goals
How can you work on aligning your leadership team on sustainability goals? New Angles proposes a capacity-building exercise on sustainability for your Executive committee.
The faces of each card carry two plausible but mutually contradictory messages about what the future holds in store for your sector and company, your current situation on a range of sustainability parameters, the significance of sustainability for business, how your executive team functions with regard to these subjects, and how your teams and other stakeholders regard your performance…
This simple Springboard is a powerful tool to surface undiscussed differences between members of the team. It prompts constructive listening and exchanges, conducive to better alignment on priorities. Though the tool is simple, facilitation is highly recommended!
For real and lasting systemic change, discover our services.
Choose your starting point…
Building your roadmap to Regenerative Impact
This programme helps you create a collective dynamic, accelerating your transition to a desirable future for your company and your employees.
Equipping your leaders to integrate Regenerative Impact
This training course provides the necessary tools for managers and Executive Committees who want to transform their day-to-day business and move their company towards regenerative impact models.
Supporting your Regenerative Impact innovations
This programme is a prototyping opportunity, tailor-made with your innovation teams engaged in developing new business models, partnerships and solutions.
Can we help you take your next step on your Sustainability Journey ?